The Softie Awards are up and ready to be voted on ! I am thrilled to be included in the Cozy category with my teapot cozy ! Please take the time and look at all the talent - absolutely mind boggling - voting closes March 30.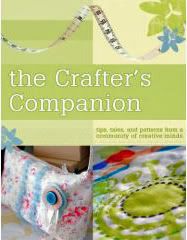 I am so flattered to be included in this book put together by Anna Torborg. So far it has just been available in the U.K. but as of April 1 you'll be able to buy it here in the U.S. ! I know you'll love it as much as I do.

No picture yet, but
Therese Laskey has a new book coming out September 1 from Chronicle Books called Softies: Simple Instructions for 25 Plush Pals . I am so pleased that one of my pincushions and the pattern are included in the book. It's available for pre-order now and I know it will be a big hit!
The pincushions went really fast in my shop - there's some quick clickers out there ;) The next update will include more pincushions and some little houses. I also have some special items planned for Mother's Day gifts.
Thanks everyone - it's really exciting to me that you support and appreciate my work!